AMD has had an impressive year with its laptop CPU offerings thanks to the Ryzen-4000 series of processors, but this certainly hasn't always been the case with Ryzen-based laptops, which were often ignored in favor of their Intel counterparts.
With AMD reportedly almost two years ahead of Intel on its 7-nanometer chips, things could continue to snowball in AMD's favor in the years ahead. However, at the moment, Intel remains the front-runner with its 11th Gen Tiger Lake CPUs receiving positive marks. As a result, AMD laptops are still often sold for less and can present a solid value by comparison.
Here are the best laptops available today
The best Chromebooks can be a great alternative to Windows or macOS laptops
From laptop replacements to kids entertainment, here are the best tablets that can get it done 
Here are some of our favorite AMD Ryzen laptops of 2020.
Black Friday 2020
Black Friday 2020 kicks off Friday, November 27 and we are already seeing some Black Friday laptop deals and expect to see tons of additional deals on today's best tech gear. Be sure to bookmark our Black Friday page for this year's exclusive deals.
The HP Envy x360 was a solid performer last year, but the 2020 model and its 4000-series AMD CPU is an absolutely amazing value at under $1,000. The 13.3-inch touchscreen display is bright and vivid and with the handy 2-in-1 folding form factor it will allow you to enjoy your content in a variety of configurations. While gamers will still want to look at our best gaming laptops page, the HP Envy x360 has absolutely unbeatable performance for this price range that will be more than sufficient for the vast majority of users. 
The sleek and stylish aluminum design of the HP also helps to give it the premium look and feel of a laptop that costs hundreds more. While it still can't compete with its pricier sibling, the HP Spectre x360 (which grabbed our top spot among the best 2-in-1-laptops), the all off to the Envy x360 is less than you would think for the price difference and is simply an excellent-looking laptop with fantastic performance.
See our full review of the HP Envy x360 13 (2020).
The Asus TUF line is known for its solid midrange gaming laptops at competitive prices, and the Asus TUF Gaming A15 lives up to that reputation. This is among the least expensive NVIDIA GeForce RTX 2060 laptops available and delivers strong graphics performance as a result. 
Thanks to the AMD 4000-series CPUs it isn't a slouch in that department either and it comes at a much more affordable price than many of its rivals. Naturally, there are some tradeoffs and the A15 is neither the slimmest nor the lightest laptop around at just over five pounds, but Asus has managed to shrink it down slightly since last year with thinner bezels. If you are looking to spend right around $1,000 on a gaming laptop and want the best graphics card available, this is probably the right fit for you.
See our first look at the Asus Tuf Gaming A15.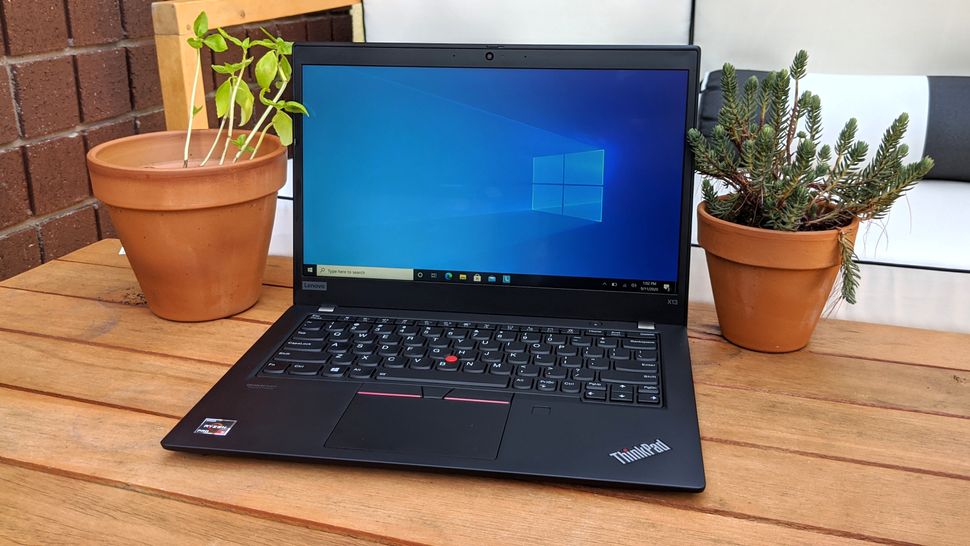 Lenovo and its ThinkPad lineup are mainstays of the business laptop world and the Ryzen-powered ThinkPad X13 (AMD) is a strong contender in this realm. The Ryzen 5 Pro 4650 U processor that we reviewed offered fantastic performance, although battery life could definitely be better at just under 8 hours in our battery test.
Extensive port options include two USB 3.2 Type-A, two USB-C, an HDMI 2.0, an Ethernet extension port, a microSD, a headphone/mic and a Kensington lock slot. And then as you would expect for a ThinkPad the keyboard is phenomenal and the laptop offers military-grade durability. The anti-relective coating on the display keeps the glare away, but you definitely feel its productivity focus as neither the color gamut nor brightness scores are going to blow you away, however its enough to easily view your spreadsheets and documents in any environment.
See our full review of the Lenovo ThinkPad X13 (AMD)
If portability is a high priority for your gaming laptop, then the Asus ROG Zephyrus G14 belongs on your shortlist. This is especially true for those considering a VR-ready laptop that won't weigh you down.
The combination of the excellent AMD Ryzen 4000-series CPU with solid Nvidia GTX or RTX GPU options make the Zephyrus G14 a performance beast with literally the best battery life we've ever seen on a gaming laptop. The display is similarly impressive with category beating brightness and color gamut and up to 120Hz refresh rate with support for AMD FreeSync.  
The onboard audio relies on the Dolby Access app and two top-firing speakers and our reviewer was blown away by it. The keyboard backlighting was one of the few disappointments with this laptop, but the keyboard itself was solid. Starting at just over $1,000, the Asus ROG Zephyrus G14 is an excellent performer and a good value for gamers on the go.
See our full Asus ROG Zephyrus G14 review. 
Microsoft's Surface Laptop 3 is beautifully designed and one of the lightest 15-inch laptops we've ever tested. The crisp, 15-inch display uses a 3:2 aspect ratio (rather than the more common 16:9), which is optimal for working with documents or viewing websites. Despite the traditional laptop form factor and expansive touchpad, the Surface Laptop 3 offers an extremely responsive touch-screen that is also compatible with the Surface Pen.
Battery life and performance aren't standout features for the Surface Laptop 3, but neither are they deal-breakers. It managed 8 hours in our testing (14 minutes shy of the average for a premium laptop), and while real-world performance was acceptable, it was below average in our benchmarks as well. If you are looking for a large screen without taking on the extra weight associated with it, the Surface Laptop 3 is the best option out there.
See our full Surface Laptop 3 (15-inch, AMD).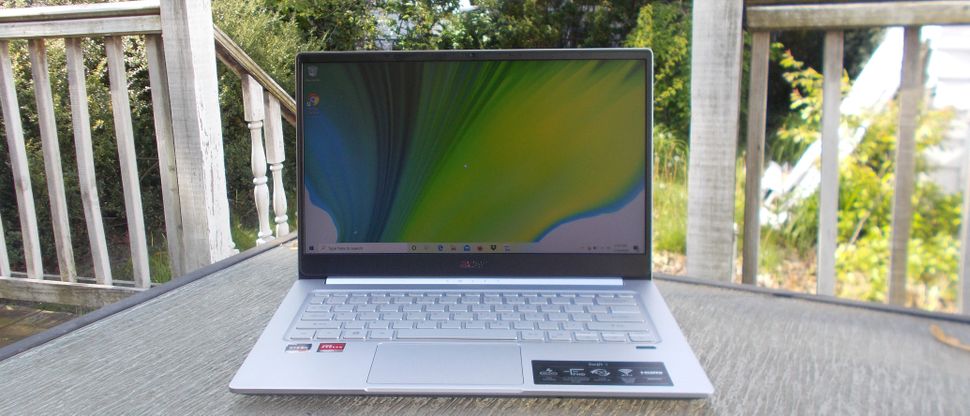 The Acer Swift 3 is a fairly unassuming little laptop and you would be right to pass on this year's Intel model, but the AMD 4000-series version of the Swift 3 offers absolutely stunning performance starting at less than $700. That performance makes the over 11-hour runtime that we saw in our battery life testing all the more impressive. 
And while its understated design isn't going to stand out, the magnesium and aluminum-look is minimalist and classy and helps to bring the Swift 3 in at a trim 0.6 inches and 2.65 pounds. If you are looking for the downside we have just one real gripe with the Swift 3 and that is its 14-inch 1080p display. The Swift 3 managed a terrible 62% sRGB color gamut reproduction in our testing and 251 nits of brightness, if a bright and vibrant display is a high priority for you take another look at our top recommendation the HP Envy x360 13.
See our full Acer Swift 3 (2020, AMD Ryzen 7 4700U) review.
While it obviously has some tradeoffs, the lack of a high refresh rate display and a high-end GPU, there is simply no beating the value proposition of the Acer Nitro 5 at just $669.
While it slotted in just below the budget gaming laptop average in a number of our graphics-based tests as you can see in our full review, it was awfully close and again at a price point that is well below its competition. CPU performance is another matter entirely, crushing the category averages in overall performance and video transcoding. 
Battery life is another stellar feature for the Nitro 5 with 11 hours and 9 minutes in our test, crushing the 6 hour and 38-minute category average. If you want to spend up to the nearly $900 Dell G5 15 SE (2020) you'll get better GPU performance and a superior display, but at that price, you'll want to start looking at the aforementioned Asus Zephyrus G14 or TUF Gaming A15 for a much better overall package at just over $1,000.
See our full Acer Nitro 5 (AMD, 2020) review.
Now before you dismiss this as yet another mid-tier gaming laptop based on the AMD Ryzen 4000 series CPU, give me a minute to explain why you should pay attention to this one too. First of all, quite frankly basically all of the mid-tier Ryzen 4000 series gaming laptops are quite good, so it's good to keep your options open as they all offer something slightly different.
The HP delivers solidly in the display department with our review unit offering a 144Hz refresh rate in a bright and vibrant display that outdoes some of its competitors. Where it falls down a touch is in the keyboard and the audio departments, but frankly I'd prefer a good gaming keyboard and gaming headset or a nice set of computer speakers anyway. 
Like some of its competitors, it does give you the option to spec things up a little higher as well topping out at the Nvidia GeForce RTX 2060 with a 1TB NVMe M.2 SSD.
See our full HP Omen 15 (2020) review.